Great Lengths Long-Lasting Hair Extensions
TRADE IN BASIC FOR BOMBSHELL.
You've wanted long, thick, glamorous hair as long for as you can remember.
Isn't it time you got it?
Give yourself the free-flowing mane of your dreams in one appointment, with no damage to your natural hair.
Saab Salon Spa offers long-lasting and short-term hair extension options. All the extensions are the highest in quality, crafted from 100% virgin Indian Temple Remy human hair (which has never been exposed to chemical processes). All hair cuticles face the same direction, resulting in high strength and luster. As it's natural human hair it can be heat styled, using traditional styling tools and products.
Come for a consultation to talk to us about the extensions that are best for you. Led by our Artistic Director, noted hair extensions expert Frank Saab, our team guarantees a dramatic transformation that will make you wonder why you didn't do this sooner.
Make It Permanent
Give yourself a great head of hair for months, by the people who invented the process! Great Lengths originated the individual-strand keratin bonding method for long-term hair extensions. This process joins individual strands to your natural hair invisibly and painlessly, without glues or adhesives, using keratin that's almost identical to the protein produced by your own hair. This method is overwhelmingly preferred by celebrity clients, models, performers, and other frequent users of hair extensions.
Great Lengths extensions are the top choice of elite stylists nationwide for their quality, longevity, and high degree of customer satisfaction. They stand up to heat, water, and sunlight; can be brushed and styled; are barely detectable; and not complicated to maintain.
Extensions come in a wide range of colors, tinted in a process based on the same principle as the coloring of cashmere. These remarkable extensions transform your hair comfortably and naturally for about five months. They can be removed without damage to natural hair.
How Much Do Great Lengths Hair Extensions Cost?
If there is one question we hear over and over again, it is "How much will my Great Lengths application cost?" While this is a very reasonable question to ask, it can be a tough one to answer! Because Great Lengths are 100% customizable, there is no set price or "one size fits all" answer to the question of cost. The cost of a Great Lengths application can vary a great deal… there are many different factors at play!
A guest with fine, long and healthy natural hair may require only two bundles of extensions in one colour, to achieve her desired result. This installation process may only take a stylist two hours to achieve. At the opposite end of the spectrum, another guest with short, layered, thick  and chemically damaged hair might require 6 bundles of extensions, in a number of shades and varying bond sizes to achieve her seamless blend. This application could quite possibly take 6 or 7 hours to achieve. You can understand why the cost in these two cases would vary a great deal! Every client and every installation is different.
With Great Lengths hair extensions, you get a service specifically tailored to you and your individual hair needs. Because of this, the answer to "How much will my Great Lengths cost?" will be specifically tailored to you as well. A consultation with your Great Lengths certified stylist is a must to get an accurate answer to the question of cost.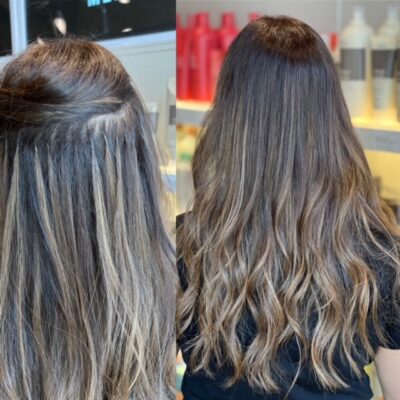 BEGIN YOUR GREAT LENGTHS JOURNEY, TO BOOK A COMPLIMENTARY CONSULTATION AND LEARN WHAT GREAT LENGTHS CAN DO FOR YOU.